Client Testimonials
Alan, Poughkeepsie, NY
This is for the boss:
I was late getting home today and missed your guy, Tim Curtis. He had done the outside of my home and left me a note. A few minutes later I heard my doorbell ring. Tim had come back after servicing his next appointment to see if I were home. I welcomed Tim in and he did the inside part of the service.
How great!
I really appreciate Tim's work and that he went out of his way for me.  I want to thank you, and most especially, thank Tim.
Susanne,Wappingers, NY
I just wanted to say it was great dealing with Craig Thomas.  First, the person who took my phone call was courteous and knowledgeable.  Then the inspector who came to the house was very thorough, pleasant and totally took care of the problem.  I would highly recommend Craig Thomas to anyone.
 Thank you.
Patricia, Poughkeepsie, NY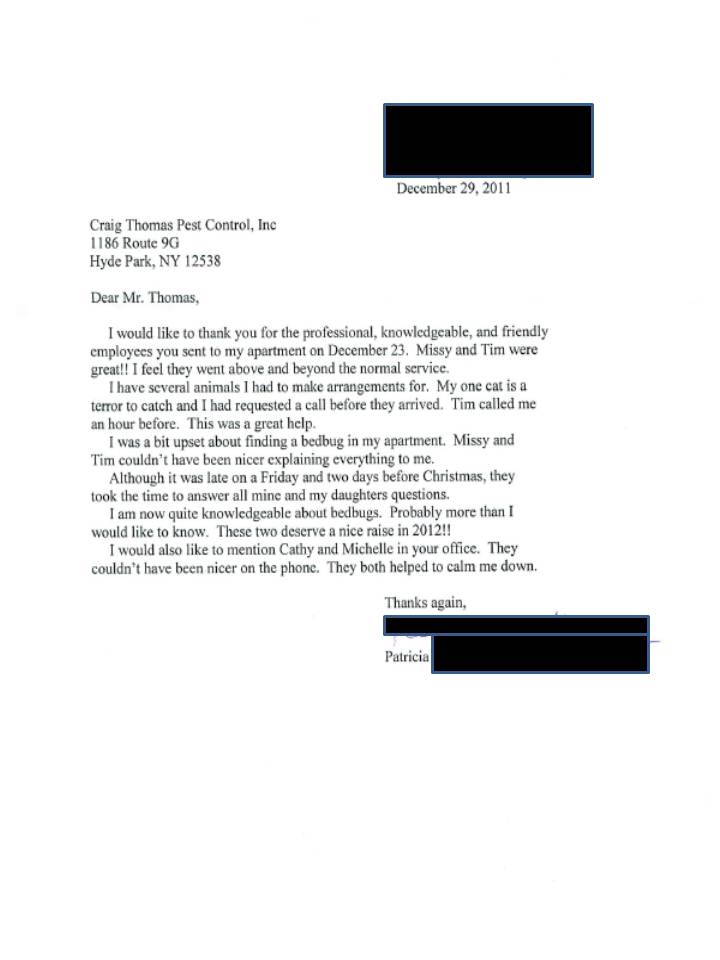 Lousie from Wappingers Falls
Craig Thomas Pest Control installed a rain gutter guard at my house, its great not cleaning out the gutters.  They were great with install. 
Heather from Goshen
We've been trusting Craig Thomas Pest Control since we bought our home 8 1/2 years ago.  They eliminated a carpenter ant problem that was inherited when we moved in, and just recently took care of our mouse guest.  Always professional and they get the job done!
Kimberly from Poughkeepsie
Dear Craig Thomas,

I just want to write a quick email to tell you what a wonderful staff you have. My husband and I recently hired you to take care of some woodchucks in our yard. Your staff was wonderful. They are the most respectful and nicest individuals we have ever hired to do something around our house. In a world full of people who do nothing but complain, I thought it necessary to make sure
I wrote to say,  Great Job!

Sincerely

Kimberly
Elizabeth in Poughkeepsie
With your service, I feel confident I wont be bothered by bugs and other pests. Thank you!
Sam in Monroe
Carpenter ants and mice are gone! Technician is knowledgeable and answers all my questions.
May from Cornwall
Your technician Donald is very professional and very informative
Attorney Office in New Windsor
Our technician is awesome. Any issues with bugs, he addresses them promptly.
Kevin in Wappingers Falls
A great group of techs! Keep up the good work!
Richard from Poughkeepsie
Results have been very good.
The Smiths from Fishkill
The technicians are always professional and courteous. Other companies should take notice.
Judith from Kingston
Very satisfied. Everyone is very professional and knowledgeable
Paul in Carmel
Andrew was great, very kind and professional.
Michele in Hyde Park
We have been very pleased!
Gregory from Wappingers Falls
Sean is an excellent representative for your company.
New Paltz Animal Hospital
We love our technician he's no nice.
Jeannie from New Paltz.
Charlie does a great job. He always let us know what has been done and what he finds. Thank you!
Patricia in Nieverville, NY
I just wanted to take a minute to compliment you on the exceptionally high level of customer service I've received from all the staff at Craig Thomas.
John in Wallkill, NY.
I am very happy with Dan P.  He is very pleasant, is conscious of my cat, takes the time to explain what he is doing and he even shared suggestions on how to prevent future pests.
Alex from LaGrangeville, NY.
I am thrilled with Sean G. He is a great person, has a great personality and a wonderful technician.
Sally in Fishkill, NY
It is a pleasure to deal with your company! My squirrel issues are gone.
Paula in Standforville, NY
I am one of your customers in Stanfordville, NY and we are not often there during the week as we live in Manhattan. Any way over the holiday I had the occasion to meet Andrew Kalimeras one of your technicians, as he came to do the monthly service. I just wanted to say that he is terrific. He did such a thorough job explaining everything to me. He reassured me about all my concerns.  He gives a terrific impression of your company. Cheers, Paula
Virginia in Wallkill, NY
I just wanted to bring to your attention the fantastic personal demeanor and professionalism of one of your technicians, Dan P. Dan was at my house yesterday, as a follow up service call, and could not be more nicer, qualified, or patient in explaining all of the possible scenarios that could have played out in our house recently regarding a 'pest issue'. He was there on time, in all of that snow, and was extremely knowledgeable and personable; one of the reasons why we continue to do business with your company. I believe that superior and outstanding service should be recognized, hence this email. In today's business world, it is extremely refreshing to encounter an individual who cares about his job, his customers, and his company so much. It is so nice to deal with a company who is successful in hiring and retaining qualified individuals as part of its work team, and I will continue to recommend Craig Thomas Pest Control to family and friends as a direct result of my continued satisfaction with your company. Best regards.
Andrew in Poughkeepsie, NY
Your company was great! From Customer Service in the office, Geraldine; Salesman, Anthony; to Service Technician, David. David was excellent, very thorough and answered all his family ongoing service questions.
Jody in Salisbury Mills, NY
I am very happy with Donald and your overall service.
Jon & Shelley Allen in New Paltz, NY
Dear Mr. Thomas, I have been meaning to write to say how happy I am with your pest control service for quite a while. Our problems with rats, mice and moths are totally gone. Your technicians do a first class job, they are: professional, diligent and friendly. A class act all around. This week you sent a team of Cary, Brendan W. and Sean M. to install roof insulation, and I can't say enough good things: they did a fantastic job from start to finish, When Cary noticed that there was a insufficient roof ventilation, he quoted me an estimate to install roof vents, went to Lowes and bought them, jumped up on the roof and had them installed by the time his colleagues had finished pumping the insulation. I am hugely impressed with your company and your people. You deserve every success, and I will have no hesitation, whatsoever in recommending you to friends.
Pat & Rich Mills
Bill, your representative came to our home, a log home, yesterday because we had found saw-dust like particles on the ground alongside our home. We expected to be encouraged to have a costly plan implemented. Instead Bill showed my husband one carpenter bee hole in the facing board that was causing the problem. Your company obviously has integrity and does not try to sell un-needed service. This is just as important as great service when there is a problem. My husband was so impressed with Bill's honesty and down-to-earth attitude. Should we need service for any pest problem you can be assured that we will call Craig Thomas and we will recommend your company to anyone we know who has a pest problem. Thank you!
Cheryl in Clinton Corners, NY
Chris was excellent when he handled my ant problem. He took care of the problem going above and beyond.
Dale in Rhinebeck, NY
I always recommend your company. You have always been there for me when I have a pest problem.
Josephine in Hopewell Junction, NY
Thank you for listening to my concerns and responding favorably.
Jean in Pawling, NY
It is a pleasure dealing with Craig Thomas Pest Control.
Arthur in Lake Katrine, NY
Very good service and quality work. We have no more problems with bugs.
Jeanne in Boiceville, NY
Great team, polite and professional.
Margi in Goshen, NY
Always a professional operation.
Mary in Newburgh, NY
It is a pleasure to have Henry as my technician. Henry explains details when needed and it is much appreciated.
John in Newburgh, NY
I like how your technicians wear booties.
Hugh in Poughkeepsie, NY
I enjoy having the same technician every time.
Bill in Poughkeepsie, NY
Thanks for years of great service.
Pete in Fishkill, NY
Technicians were highly competent and informative.
Bonnie in Gardiner, NY
You are honest and a pleasure to deal with.
Christine in Pleasant Valley, NY
Definitively top notch. Could not be more impressed.
Mildred in Poughkeepsie, NY
I am very pleased with your company.
Phil in Rhinebeck, NY
It's a pleasure doing business with ya'll.
William in High Falls, NY
Charlie is very professional and knowledgeable. He is a great attribute to your company.
Laura in Kingston, NY
Dan and Charlie are great, informative and diligent.
Michele in Woodstock, NY
Technician Howie is responsible and fantastic.
Mary in Hopewell Junction, NY
Pleased with your technicians service.
Laura in Lake Hill, NY
Your service technicians do a thoroughly excellent job.
Gerard in Saugerties, NY
The guys are great. You are lucky to have Howie on your staff!
Elizabeth in Poughkeepsie, NY
I am very satisfied associating with your company.
Deborah in Poughkeepsie, NY
I'm very happy with your company. It is very refreshing to receiving good customer service.
Kate in New Paltz, NY
Our technician is extremely helpful.