How to Get Rid of Bed Bugs
Bed Bugs. Instantly, when this topic is brought up in conversation, people ask: "What are bed bugs", "Where to they live" , "What do they eat". There are many myths plus many do's and don'ts regarding bed bugs available online. The most important thing to remember is, listen to a professional before trying "solutions."
Bed Bug Myths
Below are some bed bug myths: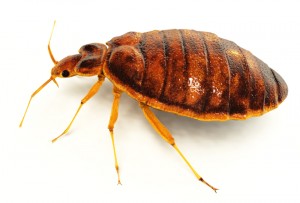 Myth #1: You can't see bed bugs. Adult bed bugs are the size, shape and color of an apple seed. Younger bed bugs (nymphs) and bed bug eggs can be difficult to see.
Myth #2: Bed bugs are found in unsanitary and low income areas. Bed bugs can be found in clean and unclean facilities from five star hotels, shelters, residential homes, commercial buildings and schools.
Myth #3: Throwing away the mattress will get rid of bed bugs. Bed bugs are not contained to bed areas and can live within 10 ft of sleeping areas.
Myth #4: I don't have any bug bites, so I don't have bed bugs. Everyone reacts to bed bug bites differently – some react, while others don't.
Myth #5: Bed bugs cause diseases. There is no evidence proving bed bugs cause disease.
When traveling it is important to take steps to avoid bringing bed bugs home. As your Hudson Valley bed bug exterminator, we are a licensed and trained in bedbug control. We have the experience; tools and knowledge to help get rid of bed bugs fast from Poughkeepsie, Kingston, Monroe, Hudson and surrounding areas. For more information on bed bugs or bed bug treatments, contact us by phone 800-255-6777, email.
Tips for Finding a Profesional
Qualified and licensed. Always deal with a licensed pest control professional to solve your pest problem.
Membership. Evaluate a company by their membership of national, state or local pest management associations.
Insurance. Find out if the pest control company has liability insurance to cover any damages to your house or furnishings during treatment.
Price. If a sizable amount of money is involved, get bids from several pest management companies.
Buy value, not price. Beware of exterminators that offer bargains that sound too good to be true.
Guarantee. If a guarantee is given, know what it covers, how long it lasts, what you must do to keep it in force, and what kind of continuing control, prevention and management are necessary.
The plan of action to handle infestations. Do not hire a bed bug company unless they can provide you with some type of bed bug protocol beforehand and/or after the inspection.
Does the company endorse or require the use of encasements? The most effective bed bug eradication plans require the use of encasements on all mattresses and box springs. For more than one reason, we believe this to greatly aid in managing and treating a bed bug infestation.
Tools. The company should employ several control methods.Integrated Pest Management (IPM) is an approach to pest management that involves using both chemical and non-chemical measures to manage pest infestations. The use of vacuum and steam has proven to be a very effective and useful tool in bed bug management program. This is usually part of an IPM protocol, and is an effective alternative to pesticides.
Educational Materials. A knowledgeable pest control company will provide you with educational materials educating you on the behavior and biology of bed bugs, and what you can do to aid in the eradication process. They should also provide you with directions, written or spoken, or what to do during treatments.
We at Craig Thomas Pest Control, in partnership with Orkin Pest Control, are proud to be members of the National Pest Management Association (NPMA). NPMA an organization including many pest management companies, whose many goals is to protect the health, home and/or property from pest. Craig Thomas is even on the board of directors! As division of NPMA includes QualityPro. QualityPro increases the professionalism of the pest management industry, by instituting background and reference checks on all new employees, drug testing, clear contracts and warranties among a host of other items. On top of all of these qualifications, we are BedBugFree Certified. This certification shows the commitment Craig Thomas Pest Control has in controlling bedbugs.
We are a licensed and trained in bedbug control and would like the opportunity to protect your health, home and property in the near future. For questions, contact us by phone 800-255-6777.