Our Team
In the beginning of 2011, Craig Thomas Pest Control added Promise to their family. Promise is a Fox Red Retriever who is their very own bed bug scent detection canine. Promise and her handler, Bill Clark work several times a day together to detect the presence of viable bed bugs through the odor that is emitted from the live insects and eggs. Promise is a lovable dog who enjoys ball and going into new environments looking for bedbugs.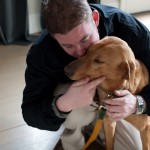 Promise's Resume:
Pure bred, registered AKC Labrador Retriever.
Green Collar K9
Promise began her development training at 7 weeks of age. Each dog undergoes a evluation detailing socialization, exposure and response to stimuli. This is documented on a weekly basis through 3 months of age, them monthly through 6 months of age. Individual files are maintained including health records, photos and videos of each puppy, which provides unrivaled understanding of each canine.All know heredity issues are minimal compared to dogs rescued from shelters with no lineage. Each canine received devoted attention, personally and throughout training. This individualized training is key in developing a confident, stable, well working dog. All Green Collar K9 dogs are trained with natural tracking and search skills for military, police, search and rescue and other industries requirng scent detection canines.
Action Canine Institute
Once Jim Rutherford from Action Canine picked up Promise in North Carolina, she was brought to Michigan where she received an additional 8 weeks of training in bed bug  scent detection. Her training simulated real life scenarios, with noisy, slippery, ditracted environments inspecting luggage, buses, hotel rooms, movie theaters and other training devices to simulate real life scenarios.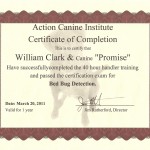 Visit Promise on Facebook and You Tube to see what she is up to!
Client Testimonials
Definitively top notch. Could not be more impressed.
-Christine in Pleasant Valley, NY
READ MORE